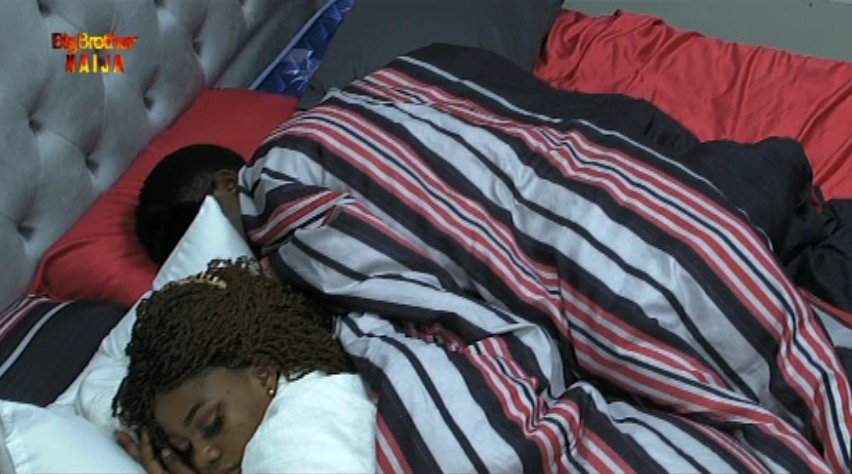 After winning the Munche contest Yesterday, IKE and Mercy had a lovey dovey dinner party courtesy of the organizers.
It was fun to see that the duo won for themselves 2 million naira.
The Saturday party wasn't left out as the duo came in late to continue their celebrations.
Later that night it was an eye saw, while others were sleeping, Ike and Mercy had their sex scene acted out for the viewers entertainment and personal fun.
A little recap on the scenarios that played out..

Sorry to all those dat slept😂😂😂
From mercy and ike fighting over one roselyn and Daisy that came for audition that did not make it to the big brother house😂😂
To seyi carrying venita to her room making tacha jealous 😋😋😋 and she was like leave me ooooo
And seyi was like lambo pls help me beg tacha she's in d bathroom and she's angry cause I carried venita pls tell her I won't do it again😥😥😥
And Esther and frods drama was not left out
She turned him down again
Moving over to Joe, ike,Mike and omashaola gossiping about tacha
Joe saying hw everyone z afraid of tacha wen her lashes are longer than her IQ
Ike was like she doesn't even ve friends but she acts like a whole full tank 😮😮😮
Joe further said he's gonna continue provoking her as long as his in the house 😂😂😂
Mean while tacha and seyi together in the hoh room
Tacha saying that Joe z up to something that he has been provoking her since he came
But he doesn't know her😋😋😋
After deir conversation they talked and laughed at length before sleeping together in the hoh room hmm…….😊😊
Nothing happened 😂😂😂
Moving over to Ike and mercy
Ike promising to marry Mercy hmm……
After their long conversation
They kissed for about 20 minutes
Moved over to the room kissing touching romancing but something got me annoyed
Cos after sometime mercy climbed Ike riding him but d camera man changed it immediately so we were not sure if they were really having sex🙄🙄❣❣💥💥💣💣💦💦
After about 3 to 5 mins they were seen at the changing room kissing passionately again😋😋😋😋
After dat they moved towards d dinning area again drinking water and kissed she sitting on his legs until Dy went to sleep
💥❣🙄😂💣💦😋😊😮😥👊😘💗💝💝💝💝💝💃💃💃💟💟💟💞💞💞💞💞
So now what do u think
Did u guys really miss😮😮😮😮
Now the real deal…
Watch the different grinding and winning of Mercy on top of Ike.